Hydraulic cylinder SQMX0100450250K3S110
From: 304.25€ Excluding VAT
Delivery time: 30 days
Article: 101.001.805
Description
Bores and piston rods: Ø 25 to Ø 200 mm bores are available to enable a vast choice according to required force.
Cushioning: on request, gradual and adjustable cushioning devices can be fitted in the front and/or rear ends of the cylinder without affecting overall dimensions. The special design of the cushions ensures optimal repeatability also in the event of variations in fluid viscosity.
Cushioning devices are always recommended as they ensure impact-free stopping even at high speed thus reducing pressure surges and impact transferred to the mounting supports. For all the available bores, cushioning is adjustable by means of a needle.
Connections: the cylinders are supplied as standard with cylindrical BSP threads and spot facing for seal rings in compliance with ISO 1179. Connections which are oversized compared to those shown in the dimensional tables are available upon request. For further information and for the order identification code, please consult our technical office. For correct cylinder operation, fluid velocity must not exceed 5 m/s.
Connection position: standard positions of the oil ports, cushioning adjustment screws, breathers and end-stroke proximity sensors are shown in the relevant diagram according to the mounting style. Connection positions different from the standard can be provided upon request.
Stroke: standard cylinders are available with strokes up to 6000 mm.
Stroke tolerances are:
0 + 1 mm for strokes up to 1000 mm
0 + 4 mm for strokes up to 6000 mm
Tie rod tightening torque: if cylinder has been disassembly, reassemble it and tighten the tie rod lock nuts cross-wise applying a gradual torque up to the value 70kH.
Breathers: on request cylinder ends can be supplied with breathers for the elimination of air. This is necessary when the entire stroke is not used or when connections are not facing upwards.
Surface finish: standard cylinders are supplied painted with black (RAL 9017) and blue (RAL 5017) colours with a paint thickness of 40μ. The rod is chromed, with the thickness not less 22 mkrn.
Technical specifications
| | |
| --- | --- |
| Pressure, MPa | 16 |
| Bore dia, mm | 100 |
| Rod dia, mm | 45 |
| Stroke, mm | 250 |
| Manufacturer | Gidrolast |
| Seals brand | Guarnitec |
| Seals material | nitrile-polyurethane |
| Hydraulic liquid | mineral oil |
| Working temperature | -20°C…+70°C |
| Max speed | 0,5 m/sec |
Dimensions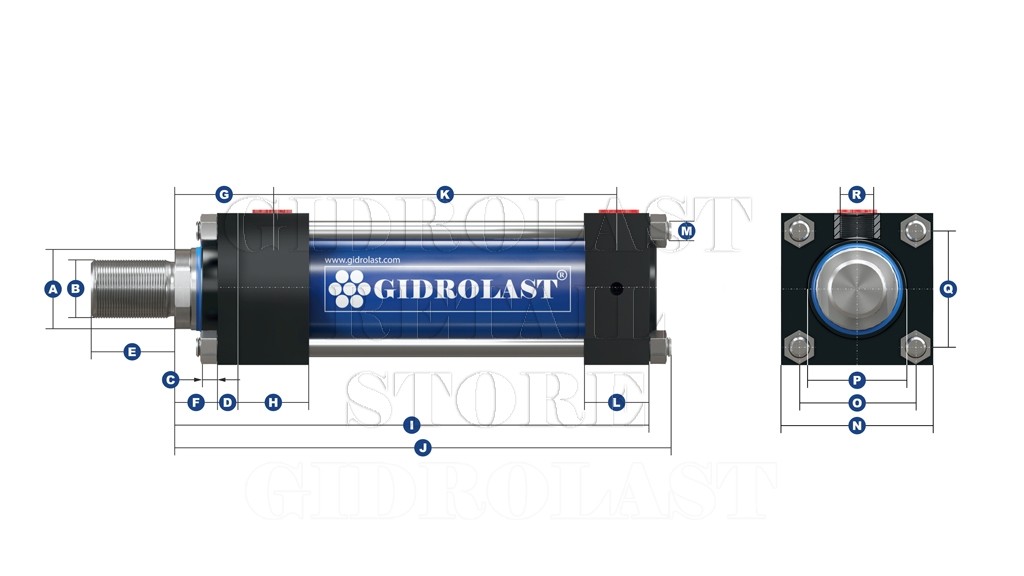 A

—

45mm;
B

—

М33х2;
C

—

9mm;
D

—

22mm;
E

—

45mm;
F

—

25mm;
G

—

88mm;
H

—

69mm;
I

—

499mm;
J

—

522mm;
K

—

382mm;
L

—

55mm;
M

—

М16;
N

—

130mm;
O

—

100mm;
P

—

88mm;
Q

—

100mm;
R

—

3/4";
Standard accessories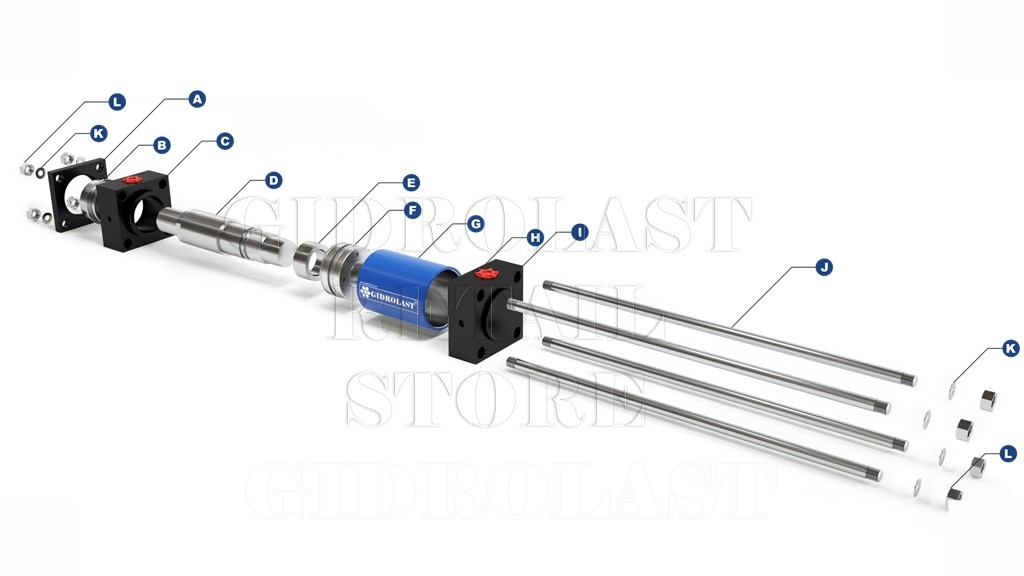 A

— Flange (1pcs)

;
B

— Bushing front cover (1pcs)

;
C

— Front cover (1pcs)

;
D

— Rod (1pcs)

;
E

— Front cushion plunger (1pcs)

;
F

— Piston (1pcs)

;
G

— Tube (1pcs)

;
H

— Cap for threaded holes (2pcs)

;
I

— Back cover (1pcs)

;
J

— Threaded stud (4pcs)

;
K

— Washer (8pcs)

;
L

— Nut (8pcs)

;
Delivery conditions
Packing: cartone box;
Waranty: 12 month;